An age-old chemical process may be a major missing link in the solution to one of our most persistent modern problems, plastic waste.
350 million tons of plastics are produced every year – over 70% ends up in landfills or the environment – with 10 million tons finding its way into the oceans.
To tackle the colossal societal and environmental issue of plastic waste, we need proportionally meaningful efforts from the private and public sectors as well as society at large that encompass behaviors and habits.
While we wait for ultimate solutions
The ultimate solutions will involve a combination of judicious consumption and disposal measures, as well as the development of cost-competitive and environmentally friendly alternatives. Yet, most observers agree that these changes are years away.
In the meantime – over the next decade or two – we can implement circular solutions to reuse or repurpose plastic waste in the most efficient way.
Chemical recycling of plastics to fuel (PTF), or plastics regeneration – which is similar to the natural process that creates fossil fuels – can help fill a big gap within this spectrum.
The lower costs and ease of application of these technologies provide a viable alternative for treating plastic waste until we are capable of fully closing the loop on all plastic materials.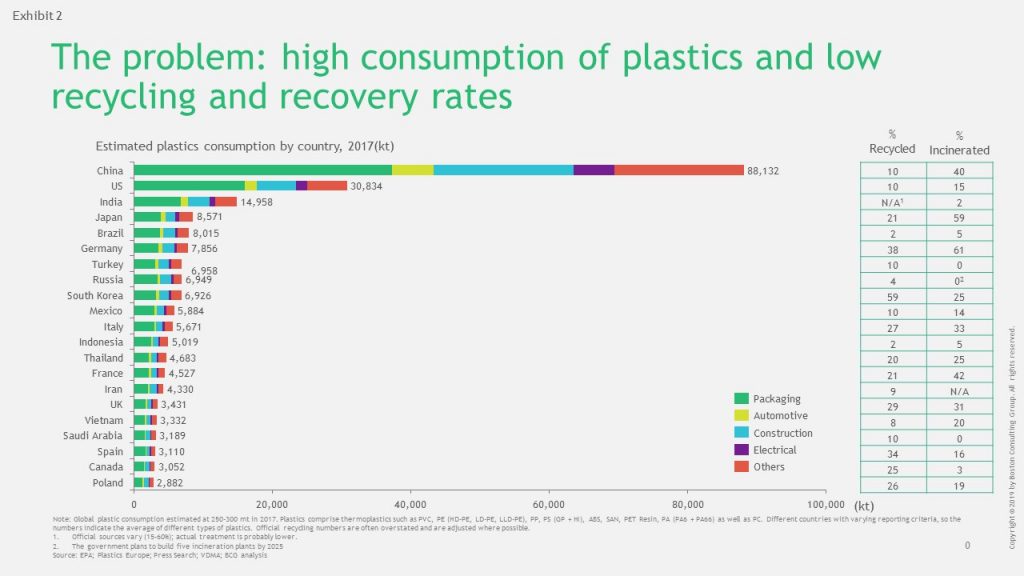 Graphic: A CIRCULAR SOLUTION TO PLASTIC WASTE, Exhibit 2, Page 8. Sources: EPA; Plastics Europe; press search; VDMA; BCG analysis.
Collaboration needed to achieve scale
In all markets, the biggest single challenge for plastics regeneration is to achieve the scale necessary to have a significant impact on the plastic waste problem and generate sufficient revenues and profits to justify investment.
All members of the ecosystem can help facilitate progress. The more companies, governments, and institutions collaborate, invest in and support conversion technologies, the greater their ability to contribute to solving the global environmental problem.
Find link to the report 'A Circular Solution To Plastic Waste' here
About the author:
Jakob Lohmann is a Consultant at BCG in Denmark. He joined BCG in 2017 and holds an M.Sc. in Political Science from Aarhus University.