At BCG, we are committed to addressing important societal challenges. This includes a large focus on sustainability in every aspect of our work both with clients, on pro bono projects, and internally. Read how through Merle's personal experiences here:
Hi my name is Merle. I work as a Consultant at BCG in Denmark, where I am a part of our Social Impact Committee and Sustainability Practice.
At BCG, we are truly committed to being part of the solution to some of the world's most pressing challenges. This includes a huge focus on sustainability both in our business internally, in our work with corporate clients, and on Social Impact projects.
In connection to BCG's new report on how we have worked to improve sustainability globally in 2019, I would like to give you some personal examples of how this has impacted me as a Consultant and how I have been able to contribute to this:
BCG gave me the opportunity to do project work with some of our global Social Impact partners, which are organizations that solely focus on solving societal issues. For example, in the spring of 2019, I supported the World Food Program's Innovation Accelerator – a UN entity that strives to eliminate hunger – by supporting early-stage innovations and helping them scale.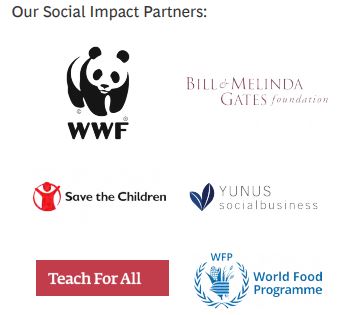 For several months in 2019, I worked with one of our corporate clients on decarbonization. This was not only an exciting project to be a part of, but it might also have significant positive environmental impact over the coming years.
Once again, for the second year in a row, I have been able to contribute to the Danish Gender Diversity Roundtable and participate in the roundtable's annual meeting. A roundtable of Danish leaders committed to improving gender diversity in Denmark, hosted by BCG and UN Women.
And finally, I am also part of an internal team committed to reducing our own footprint, e.g. by ensuring sustainable resource usage and recycling, finding ways to reduce our emissions and changing our office habits to more sustainable food consumption.
BCG's global focus on sustainability in 2019
Similar to my own examples, BCG works globally with businesses, public institutions, and societal organizations to proactively shape our society and environment for the better, while we are also managing and minimizing negative impacts of our own operations and actions.
Globally, we have four focus areas:
1. Positively impacting society: We work on consulting projects with leading societal organizations to jointly solve their greatest challenges. In 2019 alone, we have delivered more than $500 million in social impact consulting in 2019. Also, we have delivered significant positive impact by promoting responsible business practices with our clients, helping them mobilize the full scale of a company's assets, resources, and people to maximize their positive societal impact. With around 50% of our largest clients, we work on social impact topics.
2. Protecting our planet: We recognize the urgent need to reduce global emissions to net zero by 2050 and address systemic threats to our environment. In 2019, we launched the Center for Climate Action to help the private, public, and social sectors align their strategy, operations, and stakeholder engagement with a low-carbon world. If you look at BCG itself, we have been able to reduce our carbon emissions by 15% per employee and are committed to further improve our own environmental footprint.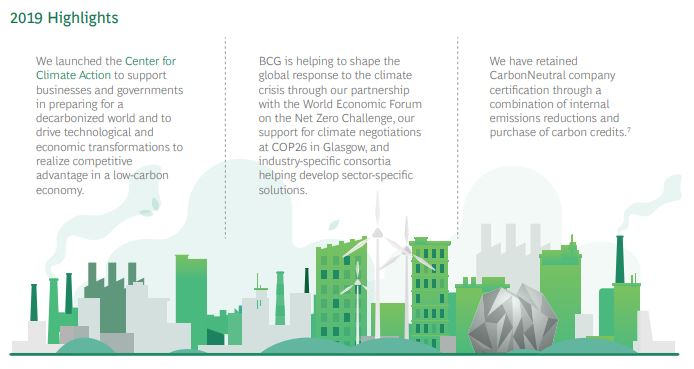 3. Empowering our people: At BCG, we have a strong team culture and invest heavily in talent acquisition, well-being, learning & development, and diversity & inclusion. For example, BCG promotes diversity & inclusion through many different initiatives, including internal networks such as Women@BCG and Pride@BCG. In 2019, we achieved a 43% female representation of global staff and 21% growth in our pride network.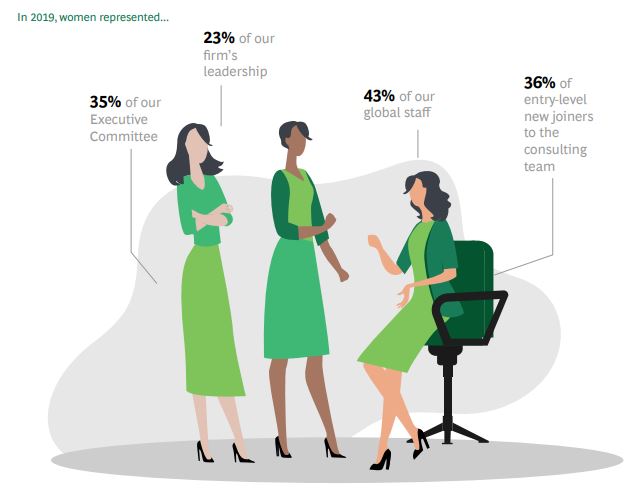 4. Promoting responsible business practices: We are committed to responsible and ethical business practices. This includes that our values and purpose shape everything we do, we set clear expectations to our employees through our Code of Conduct and we are working with our partners and suppliers on sustainability aspects.

You can read a lot more about our sustainability work including some really exciting project examples in our recently published, inaugural global Sustainability Report.
Download the report:
"Making a Difference – 2019 Annual Sustainability Report"